Philadelphia Car Accident Lawyers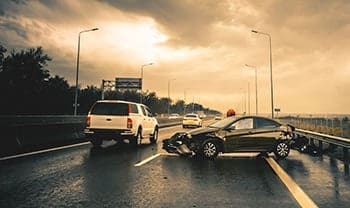 While some states are considered no-fault states and other states are considered tort states, a few give drivers the option of selecting either full-tort or limited-tort coverage.
Which one you chose will impact when you can file a lawsuit against another driver and how you file your claim.
In this article, we'll discuss the finer points of Pennsylvania law as it pertains to car accidents and how you should proceed depending on what kind of insurance you have.
If you were injured in a car accident, our Philadelphia car accident lawyers can help protect your rights and get the compensation that you deserve.
Contact us today to schedule a free case evaluation.
What Should I Do After a Car Accident in Philly?
The scene at the immediate aftermath of a car accident is often hectic, confusing, and all-around overwhelming.
Injured victims need to know how to take the proper steps to protect their health, well-being, and legal rights.
Specifically, if you were involved in a collision in Southeastern Pennsylvania or in Southern New Jersey, you should be sure to do the following five things:
Stop Your Vehicle, Render Aid: Under both Pennsylvania law and New Jersey law, drivers involved in an accident have a legal duty to stop their vehicle, render emergency aid, and exchange relevant information with the other motorists in the crash.
Seek Medical Attention: Nothing should come before your health and safety. If you were injured in a crash, you need to see a doctor. Certainly, emergency medical needs always require a trip to the nearest hospital or medical center. Additionally, minor or moderate injuries should also be checked out by an experienced physician. You can only bring a car accident injury claim if you see a doctor.
Report the Crash: Major car accidents should be reported to law enforcement. A police officer will be dispatched to help control the scene and to write an official accident report. In any future auto accident claim, this report will serve as an important type of documentation and evidence.
Secure Evidence: To the best of your ability, you should try to gather evidence at the scene of the collision. As a starting point, take pictures of the crash damage and of the wider area. Beyond that, you should also make sure you get the contact information for any third party who witnessed the crash.
Call a Philadelphia Car Accident Lawyer: Finally, you need professional legal representation. If you were hurt in an accident, you should call a lawyer before you speak to an insurance adjuster. Unfortunately, the insurance company — even if it is your own insurer — is simply not on your side. Your Philadelphia auto accident attorney will protect your rights.
Phildelphia Car Accident Report
Click on the link below to learn more about how to get a copy of your accident report in Philadelphia
Type of Car Accident Injuries
Motor vehicle accident injuries vary widely — both in how they occur and in their severity.
Indeed, it is not always possible to tell how badly the victim was injured by looking at the crash damage.
In some accidents, people are able to walk away from a devastating collision with little more than a few scratches or other minor injuries.
Sadly, in other cases, a seemingly minor crash, such as a rear-end fender bender, can result in serious, long-term injuries. 
At Philly Law, our top-rated Philadelphia car accident lawyers have extensive experience handling traffic collision claims involving virtually every type of injury.
Some of the most common types of car accident injuries include:
Bruising;
Cuts and lacerations;
Broken bones;
Soft tissue damage;
Joint/ligament injuries;
Dental injuries;
Facial scarring;
Psychological trauma/injuries;
Internal organ injuries;
Partial or total paralysis.
It is worth noting that many of the most common car accident injuries come with a delayed onset.
For a number of different reasons, it may take 24 to 72 hours for an auto accident victim to feel the true impact of the crash — it could even take longer than that.
This is why it is crucial that all injured victims get themselves a comprehensive medical evaluation as soon as possible after an accident.
What Causes Car Accidents?
Every car accident is different.
As such, each crash requires a careful and comprehensive assessment to determine exactly what happened and why it occurred.
That being said, traffic accidents do tend to share some common characteristics.
Most importantly, the overwhelming majority of car accidents could have been prevented if only proper care had been taken by all parties.
According to research conducted by the National Highway Traffic Safety Administration (NHTSA), nearly 95 percent of crashes in the United States are caused primarily by driver errors.
In other words, driver negligence causes most car accidents. Among other things, some of the most examples of driver negligence include:
Running red lights;
Running stop signs;
Failure to yield;
Speeding;
Tailgating;
Failure to check rearview mirrors;
Unsafe lane changes;
Distracted driving;
Inattentive driving;
Aggressive driving;
Texting while driving;
Talking on a cell phone;
Drunk driving; and
Drugged driving.
Of course, there are exceptions: not all motor vehicle collisions are caused by negligent drivers.
In some cases, crashes occur because of the negligence of other parties.
It could be the negligence of an auto manufacturer, the negligence of a road designer or construction company, or the negligence of a commercial trucking company.
Determining Fault in a Car Accident in Pennsylvania
Car accidents happen most frequently because one or the other driver violated some traffic rule.
This could mean failing to yield the right of way, speeding, or making unsafe lane changes without checking blind spots.
In these cases, it is very easy to determine fault.
In other cases, it might not be as easy.
For instance, everyone thinks that if you rear-end another driver, then you are automatically at fault for the accident.
In a comparative negligence state, no one is every automatically 100% at fault.
For instance, if the other driver stopped suddenly and, therefore, made the accident much more likely, then they are going to be held partially liable for that accident.
This could reduce the amount of money they can collect from the other party as a result of their actions.
Additionally, if a driver's brake lights are out, this can also make it more difficult for another driver to realize the need to stop.
So there are no "sure things" when it comes to traffic law in Pennsylvania.
And auto accident lawyer in Philadelphia can help you make your case.
Other Accident Cases We Can Help You With
Click on a link below to learn more about other areas of personal injury cases that we have experience with:
Full vs. Limited-Tort Insurance in Pennsylvania
Anyone who drives a motor vehicle is required to carry car insurance in Pennsylvania.
They have the choice, however, of what kind of insurance they can carry.
They can carry "no-fault" or "limited tort" insurance, or they can carry "full tort" or tort insurance.
Limited tort or no-fault insurance is also known as a PIP (personal injury protection) policy.
It, essentially, pays out regardless of who is at fault but your recovery is limited to expenses related to your accident.
A tort policy requires you to make a claim against the other driver's insurance policy.
The rules for recovery are stiffer but you can potentially recover more than just economic damages if you're successful.
We are Philadelphia's premier car accident law firm, having secured the numerous car accident settlements for our clients.
$1.595 Million Philadelphia Car Accident Settlement
Details of the case: A 72-year-old woman passenger suffered multiple injuries and numerous surgeries and hospitalizations as a result of a horrific head-on car crash in N.J.
The 72-year-old female driver of the car was killed. The injured passenger received $1,075,000. The estate of the woman killed received $520,000. The total auto insurance coverage available in the case was $ 1,645,000.00, which was only $50,000.00 higher than the total amount of the settlement.
No-Fault or Limited-Tort Auto Insurance in Pennsylvania
If you are in a car accident and you have a PIP or no-fault policy, your first order of business is to file a claim with your insurance company.
Under a PIP policy, it doesn't matter who caused the accident.
You can still file a claim even if you're 100% to blame.
Under a PIP insurance policy, you can recover only "economic" damages.
That means you would not be entitled to collect for pain and suffering, loss of enjoyment, or other "non-economic" damages.
Economic damages include:
Medical expenses,
Lost wages,
And any other expenses related to the accident.
In most cases, you will only be able to recover a percentage of your lost wages—not the full amount.
This number is usually around 60%.
Full-Tort Auto Insurance in Pennsylvania
In Pennsylvania, if you have a full-tort policy, you can collect on a much broader range of injuries.
This includes:
Medical expenses,
Lost wages,
Property damage,
Pain and suffering,
Emotional trauma,
Loss of enjoyment,
And more
The catch is that you can only collect for these damages as a percentage of the other driver's fault.
For instance, let's say you have $100,000 in damages but you are 40% responsible for the accident.
That means the other driver is 60% responsible for the accident, therefore the driver is only responsible for 60% of your total damages or $60,000.
In addition, you will be barred from filing suit against the other driver if your amount of fault is greater than the other driver's amount of fault.
This is known as a "modified" comparative fault rule.
Lastly, these rules only apply to personal injury and not property damage.
Property damage can be pursued in court without restrictions.
FIND OUT WHY PHILLYLAW STANDS OUT AMONG THE REST OF ACCIDENT ATTORNEYS
Philly Auto Accident Attorneys Have 40+ Years Experience
After 40+ years, Mr. Arnold and his skilled staff continue to demonstrate the same passion and desire to obtain the best results possible for clients in Philadelphia and the surrounding counties and communities throughout the state Pennsylvania.
Submit the details of the accident below and a PhillyLaw car accident lawyer Philadelphia will reach out to get a consultation set up.
Can I Sue the Other Driver if I Have Limited-Tort Insurance?
The answer to this question is yes.
You can sue another driver, but only as circumstances permit.
For instance, you must be able to demonstrate that your injuries were "serious" enough to warrant pursuing damages against the other driver.
In cases where you have sustained some serious impairment, even if it is temporary, to your body or you have sustained a permanent injury, you are allowed to sue the other driver for damages.
At the very least, you will need to have broken a bone to qualify for a tort action on a limited tort policy.
You can also pursue damages such as pain and suffering, loss of enjoyment, and other non-economic damages.
However, each policy may define what constitutes a "serious injury" differently, so it's important to read your policy before pursuing a tort action on a limited-tort policy.
"Made A Very Complicated Process To Go Smooth"
Dear Mr. Arnold,
I came to Louis Arnold through my father, who had used him for a personal injury lawsuit and was very pleased with his services. When I had a car accident back in 2014 I knew who to turn to Louis and his staff made a very complicated process to go smooth. Louis and his staff worked tirelessly on my car accident case until a positive result was achieved. Above all else, I was most pleased with the fact that Louis and his entire staff genuinely cared about me, worked hard and updated us through the entire process. They were in communication with me on a regular basis, letting me know how the case was proceeding and when I had a question either by email or phone call I always had an answer within 24 hours or less. I would recommend Louis Arnold and his entire team to anyone needing personal injury legal services. They made the entire process as painless as possible during a very stressful time.
– Fred K.
Speak To a Philly Car Crash Attorney
Insurance companies and their adjusters are not the easiest folks in the world to deal with.
Sometimes making a simple claim on your own policy can be much more difficult than it should be.
The Philadelphia car accident attorneys at PhillyLaw have the experience to deal with insurance claims adjusters and understand their method of negotiation.
Our job is to maximize your claim to ensure you can recover as much in damages as possible under the terms of your policy.
If you're filing a tort claim against a negligent driver, you will need to ensure that there is as much evidence as possible to back your claim.
Insurance companies will not simply cut you a check because you have a sympathetic story.
Philly car accident attorneys have the knowledge and the experience to help you through the process of a car accident. 
They will interpret the evidence against you and exploit ambiguities in the evidence to deny your claim.
The attorneys at PhillyLaw can help. Please give us a call or talk to us online today.
How Can A Philadelphia Car Accident Attorney Help?
Motor vehicle accident injuries vary widely — both in how they occur and in their severity. Attorneys at PhillyLaw can help interpret the evidence against you and exploit ambiguities in the evidence to deny your claim.
What are some common causes of car accidents in Philly?
According to research conducted by the National Highway Traffic Safety Administration (NHTSA), nearly 95 percent of crashes in the United States are caused primarily by driver errors. In other words, driver negligence causes most car accidents.
Why Should You Choose PhillyLaw to Represent You After a Car Accident?
If you suffered injuries following a car accident or lost a loved one because of a car accident our attorneys can help you and sit down with you for a free consultation to go over the details of your case.
The Philadelphia car accident attorneys at PhillyLaw have the experience and have been handling cases for 40+ years.
---
---
The Best in Philly Scholarship Contest
PhillyLaw is proud to offer high school and college students across the country a chance at a $1000 dollar scholarship. All you have to do is submit a 500 – 1,000-word essay about what has been their greatest influence. This scholarship is offered every year and goes towards a student's college tuition.