Philadelphia Amputation Lawyer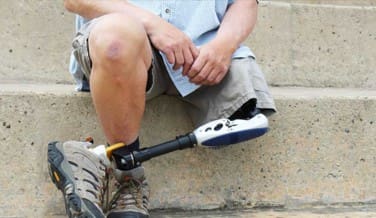 Our Philadelphia amputation lawyer represents clients who suffered limb loss due to serious accidents, medical malpractice, and defective products.
Amputations for which victims may be compensated can involve arms, legs, hands, feet, fingers, and/or toes. Limb loss/amputations can have catastrophic effects on victims' lives, including:
lost employment and ability to find new employment
extensive and repeated surgeries, long-term hospitalizations and medical care
long-term therapy
severe and chronic pain
disfigurement
reduced quality of life / emotional distress
reduced mobility
Amputations / Limb Loss Caused by Accidents
Amputation cases handled by a Philadelphia amputation lawyer frequently involve limb loss/amputation resulting from traffic and other types of accidents. In some cases, an amputation may occur during an accident. In others, the amputation may result from an infection that develops following an accident injury.
Accidents that may lead to limb loss/amputation include, but are not limited to:
Defendants that may be liable for amputation/limb loss injuries sustained in these accidents may include:
car, truck, and motorcycle owners and drivers
non-employer third parties involved in construction and other work site accidents
property owners and others responsible for premises on which slip and fall accidents occur
owners of dogs that bite or attack victims who sustain injuries resulting in amputation
Amputations/Limb Loss Caused by Defective Products
Our Philadelphia amputation lawyer may also handle cases involving amputation/limb loss caused by defective products. Defective products that can lead to a victim's amputation include:
Defective Toys (e.g., toys that can cause a puncture, burn, or other injuries resulting in infection or other need for amputation)
Defective Children's Products (e.g., partial finger amputations caused by children's baking ovens)
Defective Drugs and Medical Devices (e.g., the drug Invokana, which is linked to an increased risk of a leg, foot, and toe amputations)
Defective Work Place Machinery
Amputations / Limb Loss Caused by Medical Malpractice
Medical malpractice can also result in preventable limb loss/amputation. Medical negligence that can lead to amputation injuries includes:
Rrong-site surgery (removal of wrong appendage or limb)
Unnecessary surgery (surgical removal of a limb or appendage when removal was unnecessary)
Diagnosis errors (failure to diagnose infection, diabetes, cancer, blood clot, or other medical condition resulting in an ultimate need for amputation)
Treatment errors (failure to adequately treat medical conditions, resulting in an ultimate need for amputation)
Prescription, administration, and/or failure to monitor the effects of medication causing need for amputation
Errors during or following limb or appendage surgery resulting in a need for amputation
Contact a Philadelphia Amputation Lawyer
Did you or a family member suffer an amputation due to an accident, a defective product, or medical malpractice? Our Philadelphia amputation lawyer can help you obtain the compensation you deserve.
Contact us today for a free case evaluation of your case.