Philadelphia Burn Injury Lawyer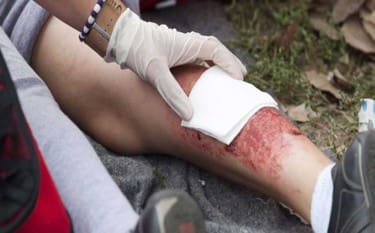 Our Philadelphia burn injury lawyer represents clients who have suffered serious burn injuries as a result of traffic accidents, work site and construction accidents, unsafe conditions on premises, and defective products.
According to the American Burn Association, 40,000 people suffered burn injuries requiring hospitalization (30,000 of which were at hospital burn centers) in 2016, alone.
Residential fires resulted in 2,745 deaths and vehicle accident fires caused another 310.
Burns Caused by Car and other Vehicle Accidents
Burn injury cases handled by a Philadelphia burn injury lawyer frequently involve severe burns received in vehicle crash fires or explosions. Thermal burns, caused by contact with fire and other extreme heat sources, can cause catastrophic and horrifically painful injuries or death. Individuals responsible for traffic accidents resulting in victims' burn injuries can be liable for victims' burn-related damages.
Compensable damages in burn injury cases may include, but are not limited to:
costs of skin graft and other burn-related surgery
lost wages and earning capacity
disfigurement
pain and suffering
loss of quality of life / emotional distress
Burns Caused by Construction and Work Site Accidents
Our Philadelphia burn injury lawyer also handles cases involving burn injuries sustained in construction and other work site accidents, including:
electrical burns/electrocutions from contact with electrical sources, faulty electrical equipment
chemical burns from chemical explosions and contact with acids, alkali agents, solvents, and corrosive chemicals
work/construction vehicle crash fires and explosions
machinery and tool burns
work-site premises fires and explosions
thermal burns from other fires, steam, boiling substances
A worker who sustains burn injuries in a construction and other work site accident may be entitled to workers' compensation for his or her injuries. The worker may also be entitled to third-party damages from responsible parties other than an employer or fellow employee. For more information on worksite and construction injury lawsuits submit a contact form to our construction accident lawyer.
Burns Caused by Defective Products
A large number of defective products can cause serious burn injuries to unsuspecting users. Burn victims who have used or were exposed to these products may be entitled to compensation from product producers and distributors. Accidents resulting in serious burns from defective products include:
thermal burns from defective glass fireplace screens that conduct too much heat
thermal burns from defective furnaces and other defective appliances that catch fire, cause explosions or release scalding steam
electrical burns from defective electric appliances
electrical burns from defective tools
thermal burns from restaurant hot drinks served at scalding temperatures
light burns from defective tanning booths or tanning lamps
burns caused by defective stoves, ovens, microwaves, grills, or hotplates
burns from house, apartment building, hotel, retail, and other fires caused by defective fireplaces, electrical systems, boilers, and other household equipment or machinery
burns caused by defective toys
burns caused by other defective household products and workplace equipment or products
If you suffered burn injuries from defective products you need to contact a defective products lawyer in Philadelphia to review your case.
Burns Caused by Negligently Maintained Premises
Individuals and entities responsible for the management and maintenance of land, buildings, and other premises may be liable for burn injuries caused to visitors to the premises. Examples of negligence that result in such liability include:
managers and owners of apartment buildings, retail establishments, hotels, restaurants, and other premises who negligently fail to install and maintain smoke alarms, fire alarms, sprinkler systems, and fire extinguishers
managers and owners of buildings who negligently fail to inspect, maintain, and repair of machinery and equipment that explodes or catches fire
managers and owners of buildings who negligently fail to inspect and repair electrical systems
Liability for premises related accidents and burns may depend on whether an injured visitor is an invitee, licensee, or trespasser. A slip and fall accident attorney can help get you the compensation you deserve.
Contact a Philadelphia Burn Injury Lawyer
Were you or a family member burned in a traffic or work-related accident, a fire, or through exposure to a defective product?
Contact a Philadelphia burn injury lawyer for a free case evaluation and help you obtain the compensation you deserve.