Philadelphia Defective Toy Lawyer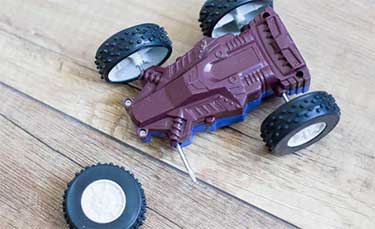 Our Philadelphia defective toy lawyer represents families of children injured or killed by dangerous toys. Toys that are defective (unreasonably dangerous as defined by product liability law) cause substantial numbers of injuries and even deaths every year.
Consumer Product Safety Commission (CPSC) statistics reveal that an estimated 240,000 toy-related injuries requiring emergency room treatment occurred in 2016, alone.
Dangerous and Defective Toys
Under product liability law, unreasonably dangerous (defective) toys are toys that contain defects in their design, manufacture, and/or warnings. Toys with design defects are toys designed in a way that makes them inherently dangerous even when properly manufactured to design specifications.
Manufacturing defects occur in toys that were safely designed but improperly manufactured so as to render them unsafe. Toys with warnings defects (also called marketing defects) are toys with warnings and/or instructions that are inadequate to inform consumers of potential hazards that could be avoided.
When a defective and dangerous toy injures or kills a child, the manufacturer and others in the toy's distribution chain can be strictly liable for the child's injuries or death. Product liability cases handled by a Philadelphia defective toy lawyer include those arising out of injuries or deaths caused by:
toys containing lead or decorated with lead paint
toys that release projectiles
toys with defects that cause them to catch fire or explode
toys with small pieces that can easily loosen or fall off
toys with strings or cords
balloons
toys with magnets that children can swallow
toys requiring batteries that children can swallow
toys with sharp or pointed parts or edges
inaccurately labeled toys or toys with inadequate warnings and instructions
toys with improper age recommendations
As harmless as most toys may appear, defective toys can cause catastrophic injuries or death to a child of unsuspecting parents. Serious and often deadly injuries sustained by children exposed to dangerous toys include:
strangulation (toys with cords or strings that become entangled around children's necks)
asphyxiation / suffocation (swallowed balloon pieces)
burns (battery operated Fidget Spinners and other toys that can catch fire when charging)
choking (toys with small parts or toys with pieces that break off)
lead poisoning (lead-painted toys that can fit in children's mouths)
lacerations / cuts (toys with sharp edges)
puncture wounds (toys with sharp points)
broken bones (bicycles, hobby horses, and other mountable toys)
electric charge injuries (swallowed batteries)
severe internal injuries (swallowed magnets)
eye injuries (toys with projectiles)
Contact a Philadelphia Defective Toy Lawyer
Was your child seriously injured by a dangerous toy? Our Philadelphia defective toy lawyer can help you obtain the justice you deserve for your child's injury or death.Contact us today and we will evaluate your case without charge.