Philadelphia IVC Filter Injury Lawyer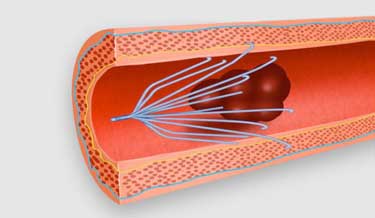 Our Philadelphia IVC filter injury lawyer represents people injured by Inferior Vena Cava (IVC) blood clot filters. Surgeons implant IVC filters in the heart's inferior vena cava in order to prevent entry of blood clots into patients' lungs.
This, in turn, is intended to prevent strokes and pulmonary emboli that can result from blood clots in a lung.
IVC Filters Linked to Serious Injuries and Death
IVC blood clot filters are linked to serious injuries and side effects, including:
myocardial infarction/heart attack
stroke
heart damage, including right atrium wall perforations
lung injuries
blood vessel injuries
internal bleeding
nerve injury
serious infections
blood flow problems, including cardiac tamponade (pericardial penetration from IVC splinters that can lead to organ failure, shock, and death)
These injuries result from breakage, or fracture, of IVC filters, which contain metal appendages that can travel or migrate to and puncture patients':
hepatic veins (blood vessels)
brains
hearts
lungs, and
other body parts
IVC Blood Clot Filter Studies
IVC manufacturers, which include C.R. Bard, Cook Medical, B. Braun, and others, received reports of lung and heart injuries from IVC filter breakage as early as 2004. Several studies have shown that IVC Filter breakage and resultant injuries are more likely to occur the longer a filter stays in a patient's body.
According to a study conducted by the New England Society for Vascular Surgery, 31 percent of IVC Filter's fracture, or splinter, after remaining in patients' bodies for prolonged periods.
A second study, conducted by York Hospital, showed fracturing of approximately 25 percent of implanted IVC Filters considered in the study.
A study reported in the Western Journal of Emergency Medicine revealed breakage of 40 percent of IVC filters within 5 ½ years of surgical insertion.
IVC Blood Clot Filter Injuries Reported to FDA
At least 900 injuries from IVC blood clot filters were reported to the U.S. Food and Drug Administration (FDA) in 2010. These injuries involved lung and heart damage caused by IVC filter splintering and migration. In 2015, the FDA released warnings about IVC filters, informing physicians and consumers that:
occurrence of serious injuries from implanted IVC blood clot filters may begin between 4 and 6 weeks after implantation
the risks or dangers linked to IVC filter implantation are greater than the benefits received after a passage of 4 to 6 weeks following surgical insertion
patients' risk of serious injury or death from IVC blood clot filters increases the longer filters stay in recipients' bodies
IVC Filter Injury Lawsuits
Lawsuits brought by a Philadelphia IVC Filter injury lawyer against IVC blood clot manufacturers may allege that the manufactures:
Was aware or should have been aware of the increased risk of serious injury or death from IVC blood clot filter implantation
failed to provide adequate warnings to physicians and consumers about dangerous IVC filter risks
IVC Filter Medical Malpractice Claims
Louis Jay Arnold also represents clients in medical malpractice claims against doctors who negligently prescribed and/or monitored patients' complications from IVC Filters. For more information about medical malpractice lawsuits, see Philadelphia Medical MalpracticeLawyer.
Contact a Philadelphia IVC Filter Injury Lawyer
Were you or a family member injured after surgical implantation of an IVC filter? You may be entitled to compensation from the manufacturer. Please contact our Philadelphia IVC filter injury lawyer, today, for a cost-free initial consultation about your case.