Philadelphia Motorcycle Accident Lawyer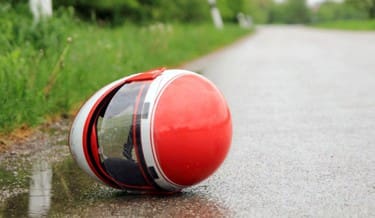 Our Philadelphia motorcycle accident lawyer represents bikers and motorcycle passengers injured in negligently caused traffic accidents.
Compensable motorcycle accident injuries can include those caused by:
negligence of other drivers
negligence of motorcyclist (for injuries to passenger)
defects in motorcycles
helmet defects
negligence related to road maintenance, construction, and repair
Because bikers are protected by nothing more than helmets and clothing, they are especially susceptible to severe accident injuries or death. According to the National Highway Traffic Safety Administration (NHTSA), biker deaths are 27 times more common than deaths of other drivers. Injuries to bikers who survive traffic accidents can be catastrophic.
They may include:
limb loss/amputation
road rash injuries (dangerous infections, nerve damage, limb loss, disfigurement)
Motorcycle Accidents Caused by Driver Negligence
Cases handled by our Philadelphia motorcycle accident lawyer frequently involve motorcycle crash injuries caused by driver negligence. Motorcycles can easily be overlooked by larger vehicles, making bikers highly vulnerable to traffic accidents.
Some of the most common examples of driver negligence causal of motorcycle accidents include:
failure to keep a lookout for bikers
failure to yield the right of way to bikers
failure to give motorcycles a sufficiently wide berth
following too closely behind motorcyclists
failing to signal before changing lanes
other traffic law and road rule violations
Motorcycle Accidents Caused by Road Construction / Repair
Poorly maintained roads and badly designed construction or repair sites can also result in motorcycle accidents and serious injuries to bikers.
Certain companies and individuals responsible for road maintenance, construction, and repair may be liable for motorcycle accident injuries caused by their negligence.
Note: Governmental entities may be immune from liability under State law.
Examples of road condition, construction, or repair conditions that may lead to motorcycle accidents include:
unrepaired pot holes and other road damage
uneven pavement
debris left on roadways
inadequately lighted and posted construction or repair zones
inadequate warnings regarding pavement conditions, lane changes, and other dangers
poorly designed off / on ramps for road construction or repair
Accidents and Injuries due to Defective Cycles and Helmets
Motorcycle Defects
Federal Motor Vehicle Safety Standards (FMVSS) govern the manufacture of motorcycles. Cycle defects (due to FMVSS violations or other design, manufacturing, or warning flaws) may contribute to motorcycle accidents. If a defect causes or contributes to an accident, the manufacturer and others in the chain of distribution can be liable for resultant injuries and deaths.
Bike defects that may contribute to or cause motorcycle accidents include:
faulty brakes
defective tires
stability defects that cause bikes to wobble in high speed conditions
Helmet Defects
Properly designed motorcycle helmets provide important protections in motorcycle crashes. While defective helmets do not cause cycle accidents, they can significantly increase the severity of riders' injuries (known as "enhanced injuries"). Helmet defects that may cause these injuries and lead to liability of helmet manufacturers and others include:
inadequate padding
inadequate coverage (helmet too small or not covering vulnerable areas)
inadequate fit (too loose, easily comes off riders' heads)
Contact a Philadelphia Motorcycle Accident Lawyer
Were you injured in a motorcycle accident due to someone else's negligence and/or a defective bike or helmet? Our Philadelphia motorcycle accident lawyer can help you obtain the compensation you deserve.
Contact us today for a cost-free evaluation of your case.