Philadelphia Spinal Cord Injury Lawyer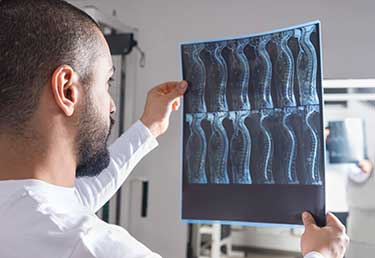 Our Philadelphia spinal cord injury lawyer represents clients who sustained spinal cord injuries due to traffic and other accidents, defective products, and medical malpractice.
Types of Spinal Cord Damage Injuries
paralysis (including quadriplegia and paraplegia)
circulatory and respiratory complications
blood clots
bowel and bladder control problems
sexual impotency and infertility
lung problems and other breathing- related complications
nerve, muscle, and joint pain
vulnerability to bed sores and other skin infections
Types of Accidents from Spinal Cord Injury Accidents
Accidents are among the most frequent cause of spinal cord injuries. Accidents causal of spinal cord damage in cases handled by a Philadelphia spinal cord injury lawyer may include:
Spinal Cord Injury Caused by Medical Malpractice
Medical malpractice can result in a patient's spinal cord damage. Instances of medical malpractice that may cause spinal cord injuries include, but are not limited to:
negligent spinal block and epidural administration
negligent failure to diagnose or treat epidural abscess
negligent manipulation of patient's body during pre-operative procedure
negligent failure to diagnose or treat tumor or stroke
negligent failure to diagnose or treat vertebral fracture or spinal cord infection
negligence during labor and delivery (childbirth)
Spinal Cord Injury Caused by Defective Products
Many dangerous and defective products can result in spinal cord damage to victims who use or are exposed to the products. Defective products that may cause spinal cord injuries include, but are not limited to:
defective ladders and other defective household products that can result in falls and resulting spinal cord damage
defective scaffolding, ladders, aerial lifts, cranes, guardrails, harnesses, and other construction and work site equipment that can cause workers' falls and resultant spinal injury
defective work or construction vehicles causal of accidents resulting in spinal damages
defective cars, motorcycles, and trucks whose defects are a cause of traffic accidents resulting in spinal injury
defective vehicle safety equipment causal of enhanced accident injuries
defective medical devices that can result in patients' spinal cord damage (e.g. Medtronic Infuse bone graft systems)
Recoverable Damages in Spinal Cord Injury Lawsuits
Victims of spinal cord injuries caused by accidents, medical malpractice, or defective products may be entitled to compensation for:
medical expenses, including hospitalization and surgery costs
therapy and rehabilitation costs
home and vehicle renovation costs
in-home care / assistance
lost wages and earning capacity
pain and suffering
Looking at the Facts of a Spinal Cord Injury and Speaking With an Attorney
Spinal cord injuries can affect you in a life-altering manner. Speaking to a spinal cord injury lawyer and laying out all the details can lead to filing a claim to receive compensation if you were involved in a serious accident.
Contact one of our experienced attorneys or fill out one of our forms and tell us about the details of your case. Our consultations are free and completely confidential.