Find the Best Personal Injury Lawyer in Philadelphia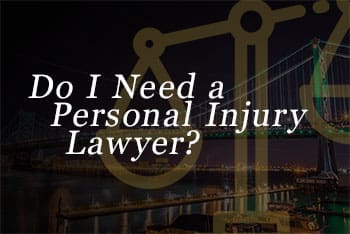 After an accident, many victims become confused about what steps to take.
As leading lawyers in Philadelphia, people ask us, "Do I need a personal injury lawyer after an accident?"
In most cases, our answer is "yes"; yet, everyone should analyze their circumstances to come to the right answer for them.
Below, we introduce some of the factors you should consider to determine if you need an attorney for a personal injury dispute.
A Lawsuit Can Get Complicated
Settling a claim or bringing a lawsuit can come with complications. You will need to juggle several deadlines and stay on top of detailed paperwork, even if you have a full-time job or are in so much pain that you can't get out of bed.
Many of our clients thought that making a claim with an insurer was as simple as filling out a couple of pieces of paper.
But insurers usually come back needing more information, and they might set deadlines that are difficult to meet.
Pretty soon, even the most organized person begins to think, "I need an attorney to help me."
How Injured are You?
The purpose of a personal injury lawsuit is to receive compensation to cover your losses.
By receiving this money, you can result in becoming "whole," which means you return to the position you would have been in had no accident occurred.
You can always find a copy of your accident report to bring your consultation.
To analyze how much you might receive, calculate the following:
The costs of all medical treatment
The amount of lost wages for missed work
The cost to repair your vehicle or other damaged property
Your pain and suffering
If your losses total only a few thousand dollars, then you don't need a lawyer and you will struggle to find one.
Most attorneys work on contingency, meaning they take a percentage of your settlement or verdict (usually around a third).
If you are only suing for $5,000, then this is often not enough to make it worth a lawyer's time.
Instead, you can bring a lawsuit in small claims court, for people who do not have lawyers.
But, if your injuries total $15,000 or more, then you should be thinking, "I need a personal injury lawyer." A lawyer can take over your case and negotiate the most amount of compensation possible.
Can You Learn the Law?
Some people believe they become entitled to compensation because they become injured.
They then think they should receive compensation because someone else hit them.
The law is a little more complicated than that. Instead, you become entitled to compensation if someone else was "negligent," meaning careful, or if they hit you.
Let's look at some examples:
You are sitting at a red light when a car comes up behind you and slams into your rear-end. You suffer injuries like whiplash, a broken forearm, and significant pain. Your vehicle is also banged up. In this example, you can sue the driver who struck you because they were careless about braking in time to avoid a crash.
You are approaching an intersection when the light turns red. Rather than stop, you barrel through the intersection, where you are T-boned by another driver who had a green light. In this situation, the fact that a driver hit you is irrelevant. The fact is you did not yield as required by Pennsylvania traffic laws, which means you are responsible for the crash even though you were hit.
Learning Pennsylvania personal injury law takes a lot of time and requires that you analyze the factual circumstances surrounding your accident.
Many people, unfortunately, do not have the time to do so, which means they need an attorney to represent them.
Are You Comfortable Standing Up for Yourself?
In a minor fender bender or other accident, you will most likely find that insurance companies are very easy to work with.
Not a lot of money is at stake, and they often pay out claims in a short period of time.
But if you have become injured, some insurers will play hardball. They might try to settle for a tiny fraction of what your injuries are worth, or they refuse to settle at all. In these situations, you need to stand up for your rights and negotiate full and fair compensation.
It's okay to admit you don't feel comfortable negotiating with gigantic insurance companies. They intimidate even inexperienced lawyers. Being an effective negotiator requires years of experience, which only a seasoned lawyer can get.
How PhillyLaw Can Help
To help answer the question "Do I need a lawyer," let us provide you with a list of things we do for our clients. By checking this list, you can get an idea of whether we would be a good fit for you:
We can investigate the scene of the accident.
We can interview witnesses who might have seen the accident and have important information about your case.
We can identify who to sue and how much money they might have to pay out a settlement.
We can analyze the strengths and weaknesses of your case and then find evidence that bolsters your claim.
We can work with expert witnesses who can help explain in the simple language who handles the accident and why.
We can handle your medical bills and insurance claim, submitting paperwork in a timely and orderly fashion, which frees you up to focus on getting well.
We can negotiate with the defendant or his insurer to maximize the amount you receive.
If necessary, we can file a lawsuit in court to protect your rights.
Hiring PhillyLaw is Easy
By hiring our firm, you will be getting a passionate advocate in your corner who can make the difference between receiving full compensation for your claim or inadequate resources to pay for your expenses.
With us, you know that you will be in good hands. We have years of experience and have obtained many favorable settlements for our clients. Submit a contact form today for a free initial consultation.