Philadelphia Construction Accident Lawyers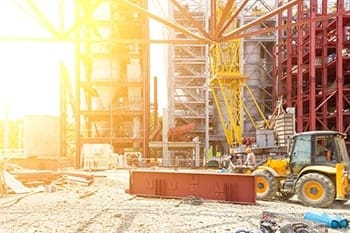 Each year, thousands of construction workers are injured and thousands more are killed.
In 2016, 5,190 workers were killed on the job. That's a little over 14 deaths per day, nationwide.
Of those, 21.1% were construction workers.
That's 991 deaths nationwide in the construction industry. The majority of those deaths were caused by falls from roofs or scaffolding (384 or 38.7%). Over 9% were struck by objects and over 8% from electrocution.
In other cases, workers were caught between two heavy pieces of equipment or had structures fall on top of them.
Generally, when these types of accidents occur in the workplace, there has been some failure to abide by the safety standards set for by federal agencies such as OSHA.
Lapses in fall protection or construction, hazard communication standards, scaffolding safety standards, and respiratory protection accounted for the most common citations issued by OSHA.
When a worker is injured on the job and the company was negligent in maintaining the bare minimum of safety standards, that worker is entitled to recover workers' compensation benefits.
In other cases, the worker may be entitled to sue. To do so, you will need the aid of a skilled Philadelphia construction accident lawyer.
The attorneys at PhillyLaw have successfully managed these claims for injured works and grieving families. Give us a call or contact us online for a free case evaluation.
Pennsylvania's Workers' Compensation Rule
The vast majority of employees are covered under Pennsylvania workers' compensation program. Workers' compensation is a no-fault insurance policy that covers you if you are injured on the job.
That means it doesn't matter whose fault it is, you can still get workers' compensation. As a tradeoff, however, employers are protected from lawsuits being filed directly against them for negligence. A worker may only bring a lawsuit against a negligent third party.
Employer Obligations
Under the law, employers are required to abide by all safety standards set forth by OSHA. This includes (but is not limited to):
Ensure the workplace is free of safety hazards;
Ensure the tools used by employees are safe and well maintained;
Use color-coded signs for dangerous chemicals or materials;
Ensure that operating procedures are communicated to employees;
Provide thorough safety training;
Develop a hazard communication program;
Offer medical examinations;
Report injuries or fatalities to OSHA; and
Post violations or citations from OSHA and correct them.
In cases where any of these employee rights have been violated, an employee can report the safety concern to OSHA. Employers cannot retaliate against employees who have reported a company for safety violations.
"Made Me Feel As Though I Was Your Only Client"
At times you made me feel as though I was your only client, because of the tenacity you delivered on my behalf. Mr. Arnold your skills as an attorney, will forever be embedded in my mind, and you can rest assured that I will proudly tell friends and relatives what a wonderful experience it was having met you–and being represented by you.
– Paul W.
Your Options as an Injured Worker
As stated earlier, your options are limited due to Pennsylvania's workers' compensation laws. If you are injured on the job, you will usually have to file a claim against your employers' workers' compensation policy. There may be other options available to you, however, given certain conditions are met.
File a personal injury lawsuit. In cases where a third party's negligence is responsible for your injuries, you can file a lawsuit against that third party. In addition, if a malfunctioning piece of equipment is responsible for your injuries, you may be able to sue the manufacturer of that equipment.
File a wrongful death lawsuit. If a worker is killed on the job, the family of the worker may file a wrongful death lawsuit against his employer.
Third Parties Who May be Liable in a Construction Accident
Potentially liable third parties include:
Independent contractors,
Equipment manufacturers,
General contractors,
Engineers, and
Workers' Compensation Benefits
While employees are entitled to workers' compensation benefits, that doesn't mean that the process of getting them is necessarily simple.
Insurance companies aren't enthusiastic about cutting a check to anyone and sometimes employers will retaliate against employees who file a claim for workers' compensation.
In this case, it helps to have a Philadelphia construction accident lawyer litigate your claim to ensure that you receive the benefits that you are entitled to.
Depending on what kind of injury you've sustained, you may be entitled to collect damages related to:
Living expenses,
Medical expenses, and
Physical therapy or vocational rehab.
Living expenses include expenses related to your mortgage, rent, or other bills. It also includes groceries and other necessities.
In addition, not all injuries heal. In cases where you sustain permanent injuries that preclude you from returning to your job, you may be able to collect a monthly stipend for lost wages.
You can receive these benefits even if you are able to work but are not able to work your current job and would be making less money at any job you could work.
You may also be able to recover damages related to a loss of a finger or limb if you suffer permanent disfigurement or permanent impairment such as blindness or loss of hearing.
Lastly, if you are killed while on the job, your spouse and dependents can receive death benefits for the lost income they will have in your absence.
Retaliation Lawsuits and Workers' Compensation Claims
While the majority of employers abide by the law, there are some who believe they can save themselves money by firing or demoting an employee who was injured on the job.
This is illegal under both state and federal law and you can file a retaliation claim against them.
We are Philadelphia's premier car accident law firm, having secured the numerous car accident settlements for our clients.
$2.7 Million Philadelphia Construction Accident Case
Details of the case: A 22-year-old construction worker was killed at a construction site as a result of a 50-foot fall from a defective scissor lift. The accident was witnessed by his older brother who was also working at the construction site.
Talk to a Construction Accident Lawyer in Philadelphia
If you've been injured on the job, the first thing you should do is file an incident report with the appropriate party and have yourself checked out by a doctor. In cases where you won't miss much time from work, the situation needs to go no further.
But if you are injured on the job due to a third party's negligence or are having difficulty getting your employer to honor your workers' compensation claim, then it's time to get a construction accident lawyer involved.
The Philadelphia construction accident lawyers at PhillyLaw have successfully represented employees in insurance claims against their employers and against negligent third parties. If you've been injured, give us a call or contact us online for a free case evaluation.