Philadelphia Medical Malpractice Attorneys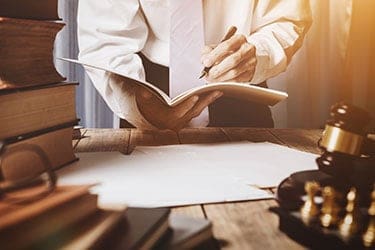 When we go to the doctor or another medical professional for a procedure, we place our trust in them to protect our health and wellbeing with the highest level of care.
However, some doctors, nurses, surgeons, and other medical professionals fail to live up to that standard of care through negligence or recklessness and end up causing more harm than good.
When this happens, the medical professionals responsible must be held accountable for their actions.
At PhillyLaw our experienced medical malpractice lawyers in Philadelphia have helped many clients get the compensation they deserve for their medical malpractice claims.
What is Medical Malpractice?
Medical malpractice is a form of personal injury that occurs when a hospital, doctor, or other medical professional causes injury to a patient through an act of negligence or recklessness.
QUICK TIPS / FAQ WHEN HIRING A PHILADELPHIA MEDICAL MALPRACTICE LAWYER
Here are some common questions you can ask:
What kind of medical malpractice cases do you handle? How many years of experience do you have handling these types of cases? Do you work on a contingency fee basis?
Call our office today to get started on your case and speak with a medical malpractice attorney or submit a form describing some fo the details of your case.
Medical malpractice can occur at any stage of medical treatment, including diagnosis, treatment, surgery, aftercare, or health management.
In order to prove medical malpractice in a lawsuit, the following elements must be shown:
The medical professional had a doctor/patient relationship and duty of care with the victim
The medical professional breached that duty of care through a negligent or reckless act
As a direct result of the breach, the victim was injured
The injury caused actual damages to the victim
There are many types of medical malpractice claims, with more and more stories in the news each day about medical professionals making serious mistakes with their patients.
Some of the most common examples of medical malpractice include, but are not limited to, the following: misdiagnosis, failure to diagnose, delayed diagnosis, failure to treat, surgical errors, prescription errors, childbirth injuries, anesthesia mistakes, medical device liability, and more.
By hiring a medical malpractice attorney, a lawyer can review your claims and advise you as to whether you have a compensable case against your medical professionals for malpractice.
Philadelphia's best medical malpractice firm
$1 Million Philadelphia Medical Malpractice Settlement
Details of the case: A 37-year-old woman sustained catastrophic injuries eventually leading to her death as a result of a gynecologist's failure to properly monitor the anesthesia being administered at the time of a D&C procedure. It should be noted that the total insurance coverage available in this case was only $1 million.
Common Forms of Medical Malpractice in PA
Medical malpractice comes in many forms.
If you believe that you or your loved one received substandard care from a doctor or other medical provider, you may have a viable malpractice claim.
Some common examples of medical malpractice in Pennsylvania and New Jersey include:
Failure to diagnose;
Surgical errors;
Anesthesia errors:
Prescription drug errors.
For patients, it is not always easy to know whether or not medical malpractice occurred.
If you feel that you received negligent medical care, your case should be reviewed by an experienced legal professional right away.
Pennsylvania Medical Malpractice Law
Victims of medical malpractice only have a small window of time to file their lawsuit with the Pennsylvania courts.
Known as the statute of limitations, victims only have two years from the date that the victim knew or should have reasonably known that the injury occurred during because of the medical procedure.
However, a lawsuit can be brought no later than seven years of the date of the injury, unless a medical professional left a foreign object inside the victim's body during the medical procedure.
In addition, if the victim of medical malpractice is a child, the victim has seven years from the date of their twentieth birthday to file a lawsuit for medical malpractice, regardless of when the malpractice took place.
Pennsylvania law also requires the use of expert medical witness throughout the process of filing a medical malpractice claim.
Within sixty days of filing a Philadelphia medical malpractice lawsuit, a "certificate of merit" must be filed with the court, which is a sworn affidavit by an expert medical witness that attests to at least one of the following:
There is a reasonable probability that the medical professional in question breached the standard duty of care, or
The medical professional named was responsible for the person who breached the standard duty of care, and/or
Expert testimony is not needed to pursue the claim
If the medical professional listed as a defendant in the case wishes to submit a counterclaim for the lawsuit, they must also submit a certificate of merit to the court within sixty days of being served with the papers for the case.
In addition, medical malpractice trials require that an expert medical witness testifies to establish what the standard duty of care is and that the medical professional in question breached that standard of care.
The only exception is when the negligence is so obvious that a reasonable layperson would be able to recognize it.
The requirements for an expert medical witness testifying at trial are that the witness is a physician that is actively practicing or teaching, experienced in the field of medicine at issue, of the same or similar specialty as the medical professional being sued, and is board certified if certification is available.
The only exception is if it can be shown that the expert witness has sufficient experience and knowledge from practicing or teaching within the last five years of the date of the injury.
"Made Me Feel As Though I Was Your Only Client"
Dear Mr. Arnold,
At times you made me feel as though I was your only client, because of the tenacity you delivered on my behalf. Mr. Arnold your skills as an attorney, will forever be embedded in my mind, and you can rest assured that I will proudly tell friends and relatives what a wonderful experience it was having met you–and being represented by you.
– Paul W.
Who Is Liable for Medical Malpractice?
Several parties can be held liable in a medical malpractice claim.
For patients who have suffered harm as a result of medical negligence, it is crucial that every potential defendant is identified and investigated.
You may be able to file a medical malpractice lawsuit against the following parties:
A physician;
A medical specialist;
A nurse;
A hospital;
A medical practice;
A pharmaceutical company; and
Other healthcare providers.
Notably, when an employee commits medical malpractice, their employer can generally be held responsible through a legal concept called 'vicarious liability'.
In practice, most medical negligence claims are handled and defended by insurance companies.
Types of Damages in a Medical Malpractice Lawsuit
Depending on the specific nature of your medical malpractice claim, you may be eligible to recover financial compensation for the following types of damages:
Economic Damages: Financial compensation should be made available for the full extent of any direct monetary losses. This includes financial relief for future losses, including likely future medical bills and diminished earning capacity.
Non-Economic Damages: Non-economic damages — pain and suffering, disfigurement, loss of life enjoyment, etc. — are inherently difficult to put a dollar figure on. Still, that does not make these losses any less real. They must still be fully and fairly compensated.
Punitive Damages: Beyond being capped by law, punitive damages are only issued in a limited number of medical malpractice claims.
Medical Malpractice Cases We Can Help With
Click on a link below to learn more about cases that are related to medical malpractice:
Compensation for Medical Malpractice
Compensation for medical malpractice claims in Pennsylvania includes economic and noneconomic damages for injuries.
Economic damages include out of pocket expenses such as the past, present, and future medical expenses lost wages and the loss of future wages and benefits.
Noneconomic damages include payment for pain and suffering, emotional distress, disfigurement, disability, and the loss of enjoyment of life.
In the most egregious cases, the court may award the victim of medical malpractice punitive damages in addition to economic and noneconomic compensation.
Punitive damages are meant to punish the medical professional for their wrongdoing as well as serve as a deterrent to other medical professionals who may consider similar behavior.
However, Pennsylvania does cap compensation for punitive damages.
The most that a victim of medical malpractice can collect in punitive damages is two times the total amount of economic and noneconomic damages in the case.
Pennsylvania also has a "periodic payments rule," which requires that compensation is paid in installments if the future damages in a medical malpractice case are more than $100,000.
Future damages are defined as the damages for future medical expenses, loss of future wages and benefits, and any future losses stemming from disability, disfigurement, or pain and suffering.
Periodic payments are automatically applied in these cases unless the victim objects.
An experienced medical malpractice attorney will be able to review the facts of your case and explain whether any of these compensation nuances may affect your medical malpractice case.
How Can a Medical Malpractice Lawyer Help?
Medical malpractice lawsuits are among the most complex types of legal claims.
At PhillyLaw, our lawyers have deep experience handling the full range of medical negligence cases.
We will protect your rights and help you pursue the maximum available financial compensation.
Specifically, our Philadelphia medical malpractice lawyers are prepared to:
Conduct a free, in-depth review of your medical
malpractice case;
Answer your questions and explain your options;
Investigate the claim — obtaining relevant evidence;
Work directly with medical experts to prove liability;
Handle settlement discussions with defendants and
insurers; and
Put together a strong, well-documented claim.
Similar to other tort claims, most medical malpractice cases are settled outside of litigation.
If you were a victim of medical malpractice in Southeastern Pennsylvania or Southern New Jersey, you need a medical malpractice attorney who has the skills and experience to represent you in settlement negotiations.
At the same time, you should hire a trial-tested Philadelphia medical malpractice attorney who will aggressively pursue justice and full financial compensation through a lawsuit if the defendant or insurance company refuses to handle your claim in a fair manner.
Contact Our Office Today
If you have questions about a medical malpractice claim in Philadelphia, our office is here with a team of Philadelphia medical malpractice lawyers to help you with your case.
Call the office or contact us today at PhillyLaw to schedule a free consultation of your medical malpractice case.
FIND OUT WHY PHILLYLAW STANDS OUT AMONG THE REST OF MEDICAL MALPRACTICE ATTORNEYS
Philly Medical Malpractice Attorneys Have 40+ Years Experience Dealing With Cases
After 40+ years, Mr. Arnold and his skilled staff continue to demonstrate the same passion and desire to obtain the best results possible for clients in Philadelphia and the surrounding counties and communities throughout the state Pennsylvania.