Philadelphia Nursing Home Injury Lawyer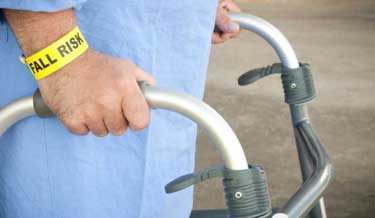 Our Philadelphia nursing home injury lawyer represents people injured by nursing home abuse and/or neglect.
Common but preventable nursing home injuries caused by medical malpractice, other negligence, or deliberate abuse include:
bed sores/pressure
sores/pressure ulcers
injuries or death from falls
injuries due to inadequate nutrition
medication errors and other negligent medical care
inadequate staffing, protocols, supervision, and security
negligent staff
staff or other resident abuse
Nursing Home Bed Sores
Cases handled by a Philadelphia nursing home injury lawyer frequently involve severe bedsore injuries.
Bedsores are also referred to as:
pressure sores
decubitus ulcers
pressure ulcers
bed ulcers
Bedsores are damage to the skin and underlying tissue from:
prolonged lying or sitting in the same position
extended pressure on a particular body part
In some cases, the injury penetrates deep below the surface, involving the bone, muscle, and/or internal organs.
Limb loss, severe infection, and/or death can result in the most serious of cases.
Residents who are unable to move are dependent on adequate care from staff and medical personnel to prevent these devastating and sometimes permanent injuries. Nursing home residents can easily develop pressure sores when staff members and medical personnel:
leave patients with mobility limitations in beds, chairs, or wheelchairs without regular repositioning
fail to provide residents with adequate nutrition and fluids to maintain healthy skin
fail to provide adequate medical care for conditions that may contribute to skin breakdown or damage
Nursing Home Falls
Nursing home residents often sustain serious injuries or die from falls that could have been prevented with proper care.
The CDC estimates that falls account for at least 1800 nursing home deaths every year.
Residents who survive falls may suffer severe and sometimes permanent injuries, including:
organ damage
brain damage
spinal cord damage and paralysis
fractures, including fractures to hip and spine
Fall injuries can be slow-healing and debilitating. The effects can diminish a resident's quality of life through reduced mobility, chronic pain, and infection.
Negligence on the part of the nursing home staff or a nursing home, itself, that can lead to residents' falls includes failure to:
timely respond to residents' alarms
provide residents with needed assistance with baths, getting out of bed, and other activities unsafe for residents with reduced mobility or balance
adequately light hallways and rooms
maintain slip-free surfaces
provide walkers and wheelchairs when needed
provide adequate security to prevent residents from wandering to areas conducive to falls
provide railings, bars, and other needed assistance devices
Nursing Home Infections
According to the CDC, between 1 and 3 million serious infections occur yearly in nursing homes and other long-term care facilities, causing up to 380,000 deaths.
In addition to infections from bedsores, infections and infectious illnesses resulting from negligent medical care in nursing homes include:
sepsis
Clostrim difficile (C. Diff)
Staphylococcus (Staph) infections
urinary tract infections (UTIs)
necrotizing fasciitis
pneumonia
Contact a Philadelphia Nursing Home Injury Lawyer
If you or loved one think they may have a case towards a nursing home reach out to one of the PhillyLaw attorneys for a free case review.
Our attorneys treat clients like they are family and will they always receive one-on-one representation.
If medical malpractice or negligence contributed to the injury, you may be entitled to compensation.