SEPTA Train Collides with Car Killing 1 Woman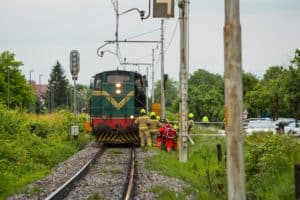 Lansdowne, PA (April 12, 2019) – A woman was killed Monday morning when her car was hit by a SEPTA train heading towards Philadelphia.
According to authorities, the flashing signals and gates were both working properly prior to the accident.
Around 9 a.m. there were two drivers who ignored the signals, and went around the gates on South Union Avenue and in between trains that were passing.
Police identified the third driver as Bellatti Menworleh, 51, whose vehicle was struck by the Media/Elwyn Regional Rail traveling at approximately 50 MPH towards Philadelphia. Due to the train's speed, Menworleh's car was dragged around 500 feet before the train was able to fully stop.
It has been reported she was on life-support following the accident Monday afternoon at Penn Presbyterian Medical Center. She died the next day from her injuries.
On Thursday Lansdowne Police Chief Daniel Donegan said, "It's important to obey the signals there," and reminds everyone to call 911 if they think the signals are malfunctioning.
Our deepest condolences go out to the families of the victims of this horrible incident. If a family member would like the name of a person removed for any reason, please click the "Remove Post" link. REMOVE POST
Source: Daily Times
Disclaimer: The information here is general information that should not be taken as legal advice. No attorney-client relationship is established between you and our attorneys by reading this article. This article is attorney advertising and should not be used as a substitute for legal advice from a qualified lawyer.