Philadelphia SEPTA Accident Lawyer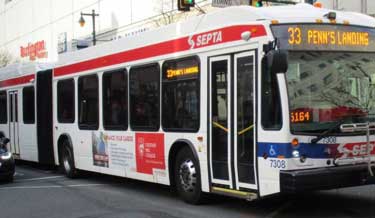 The Southeastern Pennsylvania Transportation Authority (SEPTA) is the public transportation authority within the Philadelphia region.
SEPTA is responsible for allowing citizens with Philadelphia to travel within the five counties that it currently serves.
However, like some transportations services, there is always the risk that you may become involved in an accident and sustain injuries.
If you were involved in an accident and SEPTA was the operating party you should reach out to a car accident attorney in Philadelphia and receive a free case review.
Our Philadelphia SEPTA accident lawyer represents people injured in SEPTA bus, train, trolley, and subway accidents. SEPTA accident cases can be extremely complex.
This is due, in part, to the partial immunity granted SEPTA as a governmental agency.
Other Accident Cases We Can Help You With
Click on a link below to learn more about other areas of personal injury cases that we have experience with:
SEPTA's Limited Liability / Immunity
As a governmental agency, SEPTA is governed by the Pennsylvania Sovereign Immunity Act.
Under the Act, SEPTA's liability is limited to accidents:
that were caused by its negligence, and
that occurred while the involved vehicle (or any part thereof) was "in operation"
A vehicle is considered in operation only if it is moving.
Thus, SEPTA is shielded from liability for accidents that occur while a SEPTA vehicle is at a standstill, even if the accident resulted from SEPTA negligence.
(In some cases, SEPTA may be liable for negligently caused injuries that occurred when a part of a vehicle (such as a door) was in motion.)
Damages in SEPTA accident cases are also capped under this law. SEPTA's liability is limited to $250,000 per injured person and a total of $1 million for each SEPTA accident.
SEPTA Accidents in Philadelphia
SEPTA accidents can result in significant injuries or death to SEPTA passengers, occupants of other vehicles, and pedestrians.
SEPTA has installed surveillance cameras on its buses, trolleys, subways, and trains.
While the cameras were intended to identify fraudulent claims, they frequently enable our Philadelphia SEPTA accident lawyer to obtain crucial evidence regarding a client's case.
WHAT YOU NEED TO KNOW ABOUT SEPTA ACCIDENT CLAIMS
SEPTA Accidents are not handles the same as car accidents – LEARN ABOUT WHAT YOU NEED TO KNOW
Injured victims need to realize that obtaining compensation in a SEPTA accident is not the same as other accident cases, like a car accident involving two private citizens. Instead, if SEPTA is to blame for your injuries, you will need to make a SEPTA claim on the government, which carries a host of problems.
SEPTA Accident Reporting / Notice Requirements
SEPTA accident victims are also subject to strict notice requirements of a victim's intent to sue.
Before filing a negligence claim against SEPTA, an injured party must notify SEPTA of the accident and intent to sue within 6 months of the accident.
This notice is given by filling out a form provided by SEPTA.
---
Recent Accident News in Philadelphia –
---
Passenger Injuries
SEPTA can be liable for passenger injuries caused by SEPTA's negligence on a moving train, subway, bus, or trolley. The agency can also be liable for passenger injuries negligently caused by moving parts of SEPTA vehicles, such as an opening or closing door.
SEPTA passengers are unprotected by seatbelts and can sustain significant injuries in the collision and other accidents. Injuries sustained by SEPTA passengers may include:
Note: The manner in which damages are collected by injured SEPTA passengers may depend upon whether the passenger owns an insured motor vehicle or lives with someone with vehicle insurance.
Injuries Suffered By Other Vehicles Passengers
SEPTA may also be liable for injuries negligently caused to drivers and passengers of other vehicles.
Collisions between cars and SEPTA buses, trolleys, or trains can cause massive damage and devastating injuries.
SEPTA negligence that can result in liability to drivers and passengers of automobiles includes:
driving while using cell phone or other distracted driving
driving while fatigued or under the influence of drugs or alcohol
aggressive or reckless driving
traffic law and road rule violations
Pedestrian Injuries
Pedestrians are the most vulnerable of SEPTA accident victims. Accidents involving pedestrians and large vehicles such as buses or trains frequently result in death or life-long, catastrophic injuries.
SEPTA operators owe pedestrians the same duty of care they owe to drivers and passengers of other vehicles and an even greater duty to child pedestrians. Negligence resulting in liability to injured pedestrians may include:
speeding, disobeying traffic signals, and other traffic law violations
failing to give pedestrians the right of way in crosswalks
failing to keep a lookout for children near schools and parks
Contact a Philadelphia SEPTA Accident Lawyer
Were you injured in an accident involving a SEPTA bus, trolley, train, or subway?
Our Philadelphia SEPTA accident lawyer can help you obtain the compensation you deserve. Contact us today for a free case evaluation of your case.
"Made A Very Complicated Process To Go Smooth"
Dear Mr. Arnold,
I came to Louis Arnold through my father, who had used him for a personal injury lawsuit and was very pleased with his services. When I had a car accident back in 2014 I knew who to turn to Louis and his staff made a very complicated process to go smooth. Louis and his staff worked tirelessly on my car accident case until a positive result was achieved. Above all else, I was most pleased with the fact that Louis and his entire staff genuinely cared about me, worked hard and updated us through the entire process. They were in communication with me on a regular basis, letting me know how the case was proceeding and when I had a question either by email or phone call I always had an answer within 24 hours or less. I would recommend Louis Arnold and his entire team to anyone needing personal injury legal services. They made the entire process as painless as possible during a very stressful time.
– Fred K.